As an adult, we all have the fantasy of living by ourself in a nice apartment. All of the privacy and silence that we will be getting is definitely what we need after a long tiring day of working or studying. But, living alone can be quite hard sometimes especially when we realize that we are all alone by ourselves at the end of the day. To cope with that, here are some tips on how to be good at living alone.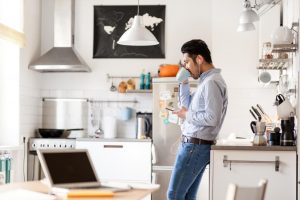 Extra Sense Of Security
When you are living alone, you want to make sure that you are always safe and secure. So, it is never bad to install an extra security lock or system in your house. Not only it will make you feel secure but it will be safer for you too. Another tip, for you to feel safe when living alone especially if you are women are, add a pair of used and dirty man sneakers outside of your door. Nobody needs to know that you are living alone and putting this used sneaker will make it seems like you are living with a man.
Decorate And Comfortable
Now that you are all safe and secure, you can finally decorate your whole apartment according to your own liking and comfort. Add on those throw pillows and blankets everywhere you like, nobody is going to stop you. If before this you have limited space to decorate your room now you can decorate the whole apartment. Do whatever your heart desire and what makes your apartment feels like home.
Stock Up With Food
When you are living by yourself cooking can be a hassle. After all, you are only feeding yourself so why the need to go through all of that struggle to prepare a meal for one person. To avoid this hassle all you need to do is stock up with foods that are easy to heat and prepare. You can also stock up in fruits and vegetable delivery Malaysia, to make sure that you are getting the needed nutrients.
Do Not Isolate Yourself
Just because you are living alone, doesn't mean you have to be alone all the time. Sometimes it is good to invite people over to your house or socialize with other people. Yes, we all need that peace and silence but too much silence can sometimes make us feel lonely and alone. So, make sure that you are socializing with your friends or neighbor. If you want, you can also adopt a pet to make you feel less lonely and to keep you accompanied and busy.
Enjoy Yourself
The most important thing is for you to be enjoying your own company. When living alone you are your own best friend, so make the best out of it and try to do as many activities as yourself. Living alone is truly an experience that everyone should experience once in their lifetime. It will teach you to accept and embrace your own company and, it will teach you to be independent by yourself.